Music
At some websites there is music you can download for free, and legally. Here are some artists and sites you can get them:
*Dead Prez
Dead Prez, consisting of Stic and M1 are one of the most, if not the most
dynamic, influential, revolutionary groups that exist. Their music is Hip-Hop
and though that might not be your 'thing' now, I think if you listen enough
and open your mind to new types of music and cultures (doesn't mean you have 
to conform to it and loose yours), you might find them to be just as great as
I do.

You can download and listen to some of their songs at this site -
http://www.sandboxautomatic.com/abstract/1901.html


Also visit the official Dead Prez website at deadprez.com


*Rage Against the Machine (RATM)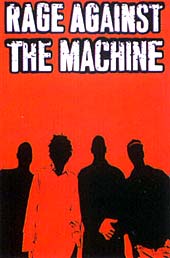 Rage Against the Machine is no longer a group anymore, however, their music 
still prevails as absolutely legendary. Amazing rap - rock combo creates the
influence of spoken word, hard rock instrumental, and revolutionary political
lyrics all the way to the left. Zack de la Rocha (the lead singer of the band)
still produces music today and did a song called 'March of Death' with DJ 
Clue shouting against the war in Iraq. The song can be found for free at Zack's
official site - zackdelarocha.com

Like Dead Prez - every one of RATM's songs and any song ever sung or covered
by Zack or the Band is simply powerful.

To visit the Ratm site and listen to some of the songs there check their 
official site ratm.com


*Bob Marley
I shouldn't have to introduce Bob Marley - know that if I did need an introduction you were
living in a cave for a very long time.
Visit the official site of Bob Marley bobmarley.com, there you can get all the 
information you need along with some song clips. Sorry - I can't find 
any links that allows the download of any of his songs for free. However, I 
can suggest to Guyanese who live in the USA to go to the library and find some
of his CD's and rip them. For Guyanese in Guyana - I suggest downloading from 
Kazaa, Bearshare, or other file sharing programs.


*Damian 'Jr. Gong' Marley

I believe that Damian Marley has lived up to his father's image with music that is as radical 
today as Bob's were during his reign. The 'Halfway Tree' album is both a joy to listen to,
and has deep social and political meaning in most of the songs. It is probably best to see if 
you can borrow this album from the library if you live in the U.S., or purchase it if you live in 
Guyana - I doubt whether you'd consider it a waste of money.To visit the official website of
Damian Jr. Gong Marley click here.